Jacob Schmidt Brewing Company
Born in Bavarian in 1845, Jacob Schmidt arrived in America at the age of 20. After working in New York and Milwaukee breweries for almost five years, he came to St. Paul to assist his friend, Theodore Hamm, as the brewmaster at Hamm's brewery. Three years later, he travelled to New Ulm to work for August Schell, and from there worked in various breweries around the Midwest.
In 1884, Jacob moved back to St. Paul and purchased a half interest in the North Star Brewery located at Commercial St. & Hudson Rd. (The place had been in operation under various owners since its inception by Edward Drewry and a Mr. Scotten, in 1855.)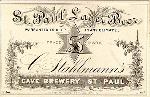 a handbill from the Stahlman's Cave Brewery
Jacob retired in 1899, turning over the operation to his daughter and son-in-law. The following year the brewery burned to the ground and a new location was immediately found: the old Stahlmann Brewery (built in 1855 as the Cave Brewery), located on West 7th St. In 1901, the brewery was incorporated as the Jacob Schmidt Brewing Company and a new plant and malt house were erected next to the existing structures.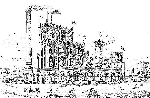 premises of the Jacob Schmidt Brewing Company, St. Paul, Minnesota
Jacob died in 1910, but the brewery continued to enjoy success until Prohibition struck. After a failed attempt at producing soft drinks, a non-alcoholic malt beverage was created and became extremely popular.
After considerable success following Repeal, the company continued to prosper under the Schmidt name until 1955, when it was purchased by the Pfeiffer Brewing Co. of Detroit, Michigan. The new owners retained the popular Schmidt label and continued to produce beer under that name. The G. Heilemann Brewing Co. of LaCrosse, Wisconsin, bought the place in 1972.
In October of 1991, the Minnesota Brewing Company was established in the old Schmidt Brewery. It continues to produce fine American pilseners, as well as several unique contract-brews. Most of the original buildings still stand today, looming proudly above the Mississippi River.
See the Beer Hunter's Guide to Minnesota for more information on today's Minnesota Brewing Company.