---
Early Minnesota Brewing
---
Anthony Yoerg, born in Bavaria in 1816, arrived in St. Paul in 1848. After a failed attempt at running a butcher shop, he and his son, Anthony Yoerg, Jr., began construction of Minnesota's first brewery that winter near where Washington and Eagle once met (just bellow the current civic center parking lot). Their first beer was sold the following spring. In 1870 the Yoergs moved their operation across the river to Commercial (Ethel) & Ohio St. This new location was equipped with the latest in steam-powered equipment as well as five cellars excavated into the sandstone bluffs to serve as fermentation and storage holds for the popular lager beer.

Anthony Yoerg died July 5, 1896, leaving his family to operate the brewery as the Yoerg Brewing Co., which they did successfully even through Prohibition, when they produced soft drinks. Beer began flowing again after Repeal and the Yoerg Brewing Co. continued operation up until 1952.

The brewery buildings were eventually occupied by the Harris Plumbing Company. On September 26, 1958, the main building caught fire and was eventually razed.


the fire at the Yoerg Brewery. . .
---
John Orth and his family were the first German immigrants to settle in Minneapolis--then St. Anthony. Mr. Orth was born in Alsace in 1821, and came to Minnesota by way of Pennsylvania. Upon arrival, he put to use the skills he learned in Germany, and opened Minnesota's second brewery in November, 1850, at 1228 Marshall.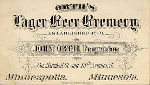 a handbill from the John Orth Brewing Company. . .
The John Orth Brewing Company moved to 1215 Marshall NE in 1880, and ten years later was acquired by the Minneapolis Brewing Company, a consolidation of the four largest Minneapolis breweries.

---
The third brewery to operate in Minnesota was begun by Norbert Kimmick in 1852, in the city of Stillwater. After a year of operating a whiskey still, he decided to build a brewery, which he ran for two years before taking on a partner, Francis X. Aiple. Norbert died in 1857, at which time his wife took his place in the partnership. This arrangement lasted until January 1, 1860, when Francis took Norbert's widow as his wife, and thus assumed control of the brewery.

In May of 1868, the building burned to the ground. Francis promptly rebuilt on the old site but suffered an injury in the process which would lead to his death in November.

Twice-cursed Mrs. Aiple again assumed control of the brewery until December 14, 1869, when she married Herman Lepass. At this time the operation was renamed the Northwestern Brewery.

Mr. Lepass sold the brewery to Frank J. Aiple (the son of Francis?) and Carl Piper in 1887. Carl died two years later and Frank conducted business until 1896, when he sold it to the Jung Brewing Co. of Milwaukee which converted the place into a malt house. (Frank Aiple went on to purchase the Bruggeman Brewery of St. Paul in 1897.)
---

---